MARIA ASCENCIÓN SOLÓRSANO {DE GARCIA Y DE CERVANTES}
"Motrme hinsu haisa rittca ittcon yete hallac."
By Ed Ketchum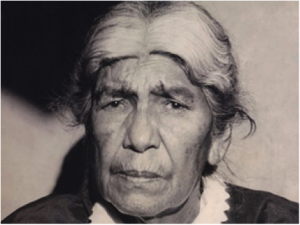 Ed Ketchum is the Amah Mutsun Tribal Band's historian, a member of the Amah Mutsun Tribal Band Tribal Council and the Amah Mutsun Land Trust Board of Directors, and a great-great grandson of Ascención Solórsano.
No one knows when she was really born, her parents Barbara and Miguel were still hiding from "Tasuguic" the Yokuts shaman, once married to her mother. "Tasuguic" was not a charlatan, he had nearly killed Ascención's mother, Barbara, with a swipe of his poisonous hand.  "Tasuguic" then escaped turning into a hawk. Barbara and Miguel spoke Mutsun at home with their children.
At thirteen Ascención went into a coma. Ascención appeared dead to those present. When Ascención awoke, she reported that she had travelled to the land of the dead.  There, she was told, "to return, it was not her time." When Ascención's grandfather Junipero "Chachititer" married Sopatra Capicion "Sipuacsa" it joined the Mutsun speaking people and Yokuts people into one tribe. Both of Ascención's grandfathers had served as Alcaldes at Mission San Juan Bautista during the Mexican period.
Ascención became a curer and comforter to the hungry, crippled, sick, home-less and just down and out. Ascención's life experience was not normal by any measure. So when J.P. Harrington came to her in 1929, Ascención recognized their partnership would be essential for her people in the future. J.P. Harrington spent nearly a year mining Ascención's memory of the Mutsun language, customs, cosmology, medicine and more. It therefore is only fair that at her death and later people wrote and composed about her life.
Following are a sample of some of those endeavors:
"Pomp and Ritual": An obituary for Ascención published February 2, 1930 in the San Francisco Chronicle.
"Scientist Cheats Grave": An obituary for Ascención published February 1, 1930 in the Los Angeles Times.
"The Woman Who Remembered Paradise": Larry Englemann's feature about Ascención and the Amah Mutsun published July 10, 1988 in the San Francisco Chronicle.
"Ascención Solorsano": An undated poem written by John P. Harrington about Ascencion.
"Ascención": A flyer for the 2008 ethno-historical cantata produced by California State University, Fresno's Department of Music.