Land Trust

Are you looking for AMLT Newsletters, press releases or event announcements? Click here.
Conservation Mission
We are Amah Mutsun, of the lands known to us as Popeloutchom.
Home to our four-legged, winged, finned, and plant kin;
they have provided us with all that we needed for millennia—we will care for them.
Resting place of those that came before us and cradle of those yet to come,
they are sacred—we will protect them.
 Our guiding vision: Is of a future where our people and all people may once again  drink safely from clean and clear, flowing waters; hunt from healthy herds of elk and deer; and harvest salmon and abalone from resilient fisheries; behold and pray to a self-sustaining population of condors and eagles soaring the ridges and valleys; witness the sky darken with geese rising off our healthy lakes and wetlands; rest assured that those who have passed may rest in peace; and know their connection to land because they live connected to the land.
Mutsun Territory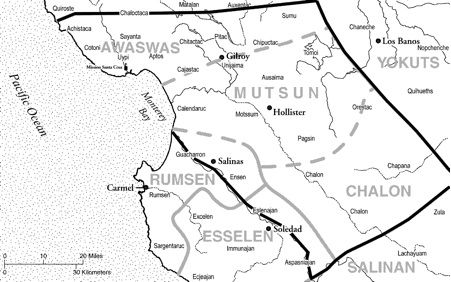 The traditional territory of the Amah Mutsun, outlined in black on this map, encompasses all or portions of the modern Counties of San Benito, Monterey, Santa Cruz, Santa Clara, and San Mateo. Historically comprised of more than 20 politically distinct peoples, the modern tribe represents the surviving descendant families of these historic groups.
Our Mutsun Identity
We are the Amah Mutsun Tribal Band. Our ancestors, collectively referred to by many as "Ohlone", are the indigenous peoples of south-San Francisco and north-Monterey Bay area. We trace our ancestry and heritage through a keyhole in time when the Spanish occupied our traditional lands and held us in their missions at San Juan Bautista and Santa Cruz. Before that time our peoples were of many Bands, villages, and communities. Though they spoke similar languages, traded and intermarried, they were distinct in territory and leadership. Now living on this side of the contact gateway, in these modern times and with much of our traditional ways, stories and histories disrupted, we stand united – regaining our knowledge, celebrating our heritage, reclaiming our sovereignty, honoring our Creator and protecting our homeland.
A Vision for our Land
We are of the lands known to us as Popeloutchom. These lands are home to all that we needed for millennia –and continuing to care for them is central to the Mutsun mission and identity. These lands are the resting place of those that came before us and the cradle of those yet to come. They are sacred to us, and protecting their ability to sustain future generations is central to the mission of the Tribe. Without healthy terrestrial and aquatic ecosystems our mission cannot be completed.  The Strategic Plan  for our Amah Mutsun Land Trust is available here.
Looking Forward
Legacy to the generations ahead
We envision a future where our people—all people—may once again…
drink safely from our waters – flowing clean and clear
hunt from healthy herds of elk and deer, and harvest salmon and other healthy fisheries from our waters
conduct sacred ceremonies to help restore and maintain balance within ourselves and within our universe
see and pray to a healthy population of condors in our skies
witness the sky darken with geese and other waterfowl rising from our lakes
rest assured that those who have passed may rest in peace
know their connection to land because they live connected to the land
This vision of the future is not only an ambition; it is a beacon. Getting there may take generations—and so we must start now. Each step we take now toward that beacon is one less that will need to be taken by our children.
Our Goals
With extensive groundwork laid over the past nine years, the AMLT will continue to professionalize its organization, build its Board and staff capacity, grow a solid base of institutional and individual funders, and begin to restore the lands of Popeloutchom based on the ways and knowledge of our Ancestors.  The four major goals described below were established to guide our organizational growth:
Organization and Sustainability
Conservation and Protection
Stewardship and Management
Learning and Teaching
Our Vision
To provide a hopeful and healthful future for our children
To protect our sacred sites, our places of power, the resting places of our ancestors
To secure access, to manage and to harvest the bounty of these lands that sustain our people spiritually and materially
To regain our sovereignty and to exercise the right to not only be heard, but to affect decisions that affect our lands, our beliefs, our way of life—and to determine our own destiny as a community and culture
To reunite our people with their land
Our Methods
build strong partnerships and synergistic coalitions
free speech and direct action
inform land-use and development decisions with the wisdom and traditional knowledge that our people attained living on these lands for millennia
lend our voices on behalf of the creatures, the plants and the land that they shall be regarded ahead of development—for their well-being is our own
exemplify integrity, care for the land, compassion for life—all life, respect for our ancestors and gratitude for all that is provided us—for our children learn by example and they will be the teachers of our grand children
Our Current Initiatives
Research Program at Quiroste Valley Cultural Preserve, Año Nuevo State Park
The Mutsun ReLearning Garden at the UC Santa Cruz Arboretum
McCabe Canyon Research and Eco-cultural Restoration Project Pinnacles National Park
Cooperating with the Midpeninsula Regional Open Space District, UC Berkeley and the UC Santa Cruz Arboretum to conduct site specific research to inform management of culturally significant species on preserve lands.
Midpeninsula Regional Open Space District, Planning and Initiation of Landscape Restoration and Traditional Management at Mount Umunhum, Santa Clara County
Cultivating a Management Partnership at Cañada de los Osos Ecological Reserve, Santa Clara County
Development of a Cultural Landscape Management Plan for Whitehouse Creek Watershed, San Mateo and Santa Cruz Counties
Long-term Sustainability through Place-Based, Small Scale Economies: Approached from Historical Ecology:  Research Project with UC Berkeley and Research Institute for Humanity and Nature, Japan.
Consult and assist the Pajaro Watershed Coalition to ensure our Tribal vision for this culturally important watershed is understood.
In 2012, AMLT entered into a three year Memorandum of Agreement with Sempervirens Fund for sponsorship and organizational support. At present, all donations to the AMLT should be made to Sempervirens Fund on behalf of the AMLT.

Sign up for the AMLT email list
Links
AMLT—General Information Sheet
AMLT—Case for Support (PowerPoint)
Amah Mutsun's return to Mt. Umunhum (Video)
08/24/13: Amah Mutsun Land Trust News
08/22/13: Amah Mutsun Tribe Acquires Conservation Easement Near Big Basin Redwoods and Año Nuevo State Parks
02/21/13: National Park Service awards Amah Mutsun with Hartzog award.