Amah Mutsun Info Sheet
view Amah Mutsun info sheet PDF
Who we are
The Amah Mutsun Tribal Band are the living descendents of Mutsun and Awaswas-speaking peoples who have continually occupied the greater Monterey Bay Region, thriving for thousands of years and countless generations prior to European contact.
Our Modern Government was organized in 1990 with the drafting of a constitution, and the election of our Tribal Council. We are a State-recognized Tribal Government under California Senate Bill 18 (California Civil Code, Section 815 et seq.) and Petitioner 120 (currently 2nd on the "Ready for Active Consideration" list) to the Bureau of Indian Affairs' Office of Federal Acknowledgement. It is our intent to restore our status as a federally-recognized historic, sovereign Indian nation. Our current, member-elected, 10-seat Council is Chaired by Mr. Valentin Lopez, a retired Commander with the California Highway Patrol.
Our History traces a path of subjugation and community disintegration under Spanish occupation, through Governor Peter Burnett's extermination order in 1853, to federal recognition and acknowledged responsibility to the San Juan (Bautista) Indians in the 1920's, and the subsequent denial of land through the wrongful and illegal termination of our status as a sovereign Indian nation. In 1927, Indian Field Service superintendant Lafayette A. Dorrington claimed that "the San Juan Indians were "well cared for by the Catholic priests and thus required no land." Each of our 500+ members can trace their family's heritage directly to one or more Mutsun/Awaswas-speaking groups that were documented as having passed through Spanish-established missions in Santa Cruz or San Juan Bautista, California.
Our Cultural Heritage today is a patchwork-tapestry of stories, traditional lifeways and rituals handed down through generations, woven upon a common past with strong family ties, and illuminated by the documentation of our language and ways as told to Smithsonian ethnographer, John P. Harrington by Tribal matriarch and traditional healer, Ascension Solarzano.
Our Organization is comprised of our governing Council, whose financial and community activity is facilitated through the Humunya Tribal Foundation, a 501(c)3 not-for-profit organization chartered in California. We are also in the process of chartering a Tribal Land Trust.
Amah Mutsun Territory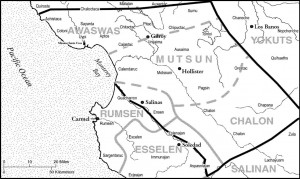 Our Traditional Territory, known to us in Mutsun as Popeloutchom, stretches from Año Nuevo in the north, along the west slope of the Santa Cruz mountains to the Pacific Ocean and Monterey Bay, south to the Salinas river and includes the entire Pajaro and San Benito watersheds – encompassing all of what are today known as San Benito and Santa Cruz as well as southern Santa Clara and eastern Monterey Counties.
Today, though landless and with members living throughout the Central Valley and Central Coast – our community is strong and involved in a broad range of initiatives including: language and cultural revitalization; ecological and anthropological research; interpretation and education; member services and federal recognition; and cultural resource and land protection. We continue to practice our spiritual beliefs through dance, song, and ceremony, offering our prayers to our sacred mountains and high places. Motivating AMTB's land-based initiatives is our belief that we were put on this earth to care for the lands, waters and denizens of Popeloutchom. With the increased capacities made manifest through the sheer will and resilience of our people, strong leadership, active members, devoted advisors, and inspired supporters – we are once again actively engaged in the care and protection of our lands and stand ready for the challenges and responsibilities of Tribal land tenure.
Our guiding vision
is of a future where our people and all people may once again drink safely from clean and clear, flowing waters; hunt from healthy herds of elk and deer; and harvest salmon and abalone from resilient fisheries; behold and pray to a self-sustaining population of condors and eagles soaring the ridges and valleys; witness the sky darken with geese rising off our healthy lakes and wetlands; rest assured that those who have passed may rest in peace; and know their connection to land because they live connected to the land.
Our goals of this work
are to provide a hopeful and healthful future for our children; protect the sacred sites and resting spirits of our ancestors; access, manage and harvest the bounty of these lands that sustain the people spiritually and physically; repair and make resilient the natural systems that modern ways have disrupted; integrate tradition knowledge and methods into the science of conservation; affect decisions that affect our lands and well-being; and reunite our people upon Tribally-owned homelands.
Current Action
The Amah Mutsun, through partnerships and direct action, are involved in a great number of projects, studies, and exhibits throughout our territory. Some of our recent accomplishments include a successful partnership with the California State Parks Commission to designate one of our first contact village sites a State Cultural Preserve, in which we are now engaged in a high profile, interdisciplinary research project aimed at better understanding the methods of landscape management employed by the Quiroste group of our ancestors. We are likewise engaged in a number of projects at the Pinnacles National Monument, a unit of the National Park Service, including a fire history study funded by the Joint Fire Science Agency. Our active partnerships at Pinnacles NM has prompted the establishment of a MOU between the National Park Service and our tribe. This MOU, currently in draft form, will be the first such agreement in California between a National Park Unit and a non-federally recognized tribe. For the last several years, the tribe has also established a multi-faceted partnership with UC Santa Cruz – including a Mutsun Language program (both physical and online classes), a Mutsun ReLearning Garden at the Arboretum, and Mutsun Speaker Series – all co-sponsored by the University and the Amah Mutsun Tribal Band. Our deep conviction to the health and well-being of our people and Popeloutchom coupled with the successes outlined above has further inspired our actions and we are in the process of establishing a Tribal Land Trust to further our conservation action within our traditional territory. Recognizing our ability to bring creative and collaborative projects to fruition, this initiative is receiving encouragement from our many partners including noteworthy financial support from the Christensen Fund, with guidance from the Sempervirens Fund. We anticipate incorporation of our Tribal Land Trust by year's end 2012.
Our Partners
The Amah Mutsun value the great work being done by like-minded individuals and organizations in service of our lands and people. Wherever possible, the tribe seeks to partner with these groups toward the attainment of shared goals. Some of our partners include California State Parks, National Park Service, the Pinnacles Partnership, Santa Clara County Parks, UC Berkeley, UC Santa Cruz, Cabrillo College, De Anza College, San Francisco State University, Stanford University, Sempervirens Fund, Land Trust of Santa Cruz County, Peninsula Open Space Trust, The Nature Conservancy, the California Academy of Sciences, the Oakland Museum, the Exploratorium, the City of Santa Cruz, and the City of San Juan Bautista. Other partnerships are being developed on an ongoing basis.